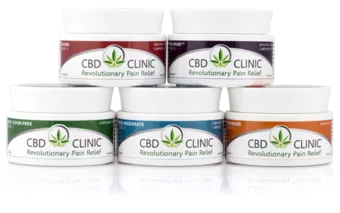 CBD CLINIC™ Professional Series topical medications are the first and only non-prescription ointments and creams that combine FDA-approved active ingredients and hemp extract. Our Revolutionary Pain Relief products are formulated with natural emollients to help active analgesic compounds penetrate deep to quickly increase blood flow to joints and muscles and interrupt pain signaling.
About the Company
The CBD CLINIC product line was developed by Abacus™ Health Products to provide an entirely new class of non-prescription topical medications that offer Revolutionary Relief™ to the billions of people living with pain. Our mission is to help people throughout the world be as pain-free as possible.
CBD CLINIC products are brought to you in partnership with Aidance Scientific, an FDA-registered manufacturer of topical, dermatological solutions. Aidance Scientific has developed, manufactured, and distributed all-natural, over-the-counter medications since 2004, serving customers in over 150 countries worldwide.
1. Natural Emollients
The base formulations of our ointments and creams are made with all-natural emollients that are readily absorbed by human skin. CBD CLINIC emollients include organic beeswax, jojoba seed oil, cottonseed oil, and shea butter. These were selected and combined via a proprietary method which quickly delivers pain-relieving ingredients into the skin.
Comparatively, many other topical analgesic products use cheap, synthetic ingredients for their base, including benzyl alcohol, cetyl alcohol, diglycol stearate, glyceryl monostearate, petrolatum, etc.

2. Powerful Terpenes
Terpenes (C10H16 molecules) produce analgesic action in acute and neuropathic pain by decreasing neuronal excitability through peripheral mechanisms. Menthol and Camphor are the two most widely used terpenes in topical pain management today. Terpenes are aromatic organic hydrocarbons found in the essential oils of plants. They produce the distinct aroma associated with each plant. The therapeutic effects of terpenes are widely recognized. Other terpenes (essential oils) in our products--including Eucalyptus, Tea Tree, Clove, Peppermint and Rich-Hemp extract—are combined with Menthol and/or Camphor.
CBD molecule example
3. Endocannabinoid Modulators
In the mid-1990s, discovery of the endocannabinoid enabled a major breakthrough in new therapies for reducing pain, inflammation and other ailments. The endocannabinoid system is a group of endogenous cannabinoid receptors located in the mammalian brain and throughout the central and peripheral nervous systems, consisting of neuromodulatory lipids and their receptors.
The endocannabinoid receptor system plays a significant role in regulating neurotransmitter function. One receptor that is being actively studied is called CB1. It is found in spinal and peripheral nervous tissue (including areas important for pain perception). Although research into modulation of the endocannabinoid system is still in its early phases, studies published in the British Journal of Pharmacology and elsew
here have reported that some terpenes have been identified as having allosteric modulator properties, capable of slowing down neurotransmitter signaling. These findings help us understand the therapeutic relevance and benefits that terpenes may have with pain perception and how they can support reductions in pain.
CBD Clinic Creams

Level 4: Deep Muscle and Joint Pain Relief Ointment, with 7% Menthol, 5% Camphor, 1000MG CBD

Level 5: Pro-Sport TM Deep Muscle and Joint Pain Relief Ointment, with 16% Menthol and 11% Camphor.
2000MG CBD

*CW Simply Hemp Capsules: CW Simply capsules are proudly produced in Colorado by combining Charlotte's Web extract oil with MCT fractionated coconut oil and plant-derived starches and cellulose which are then all wrapped in a vegetarian capsule.

( Available in 30 or 60 capsules and 15MG or 35MG)

Koi Tinctures/Vape: A CBD Additive that can be used: sublingually, added into your favorite e-liquids, added to your food or drinks, or vaped alone. Comes in 5 Flavors and Unflavored

(Available in 100MG, 250MG, 500MG and 1000MG)




*Charoltte's Web Everyday Pure Hemp Extract: ​The product that made Charlotte's Web™ the World's Most Trusted Hemp Extract™. Everyday Advanced Dietary Supplement is specially formulated with the most advanced concentration of the cannabinoids found in Charlotte's Web™ proprietary hemp extracts. Two flavors Available.

(Available in 10MG, 25MG and 85MG - 30ML Bottles)
* These statements have not been evaluated by the Food and Drug Administration. This product is not intended to diagnose, treat, cure or prevent any disease.